EBC PERFORMANCE BRAKES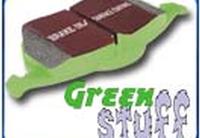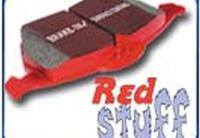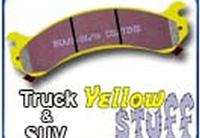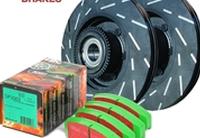 EBC Brakes is the world leader in automotive brake pads and rotors. From its manufacturing base in the UK, EBC Brakes produces the largest range of disc brake pads and brake rotors in the world. We produce 100% of our own disc brake pads in our own factories in the UK.
Using a unique Aramid Fiber technology for disc pad manufacture, and employing high tech man made products such as Dupont Kevlar and Twaron the EBC brake product is years ahead of its competitors, most of whom manufacture using cheap steel fibre bases.
The use of Aramid Fibers allows a higher degree of flexibility in compound design enabling EBC Brakes to produce a quiet and long lasting range of compounds that can improve brakes, reduce rotor wear and thereby greatly reduce brake dust found on alloy wheels. With Aramid fiber technology, only 4% of the pad is the fiber used for binding and production - in steel fiber technology up to 50% is cheap binding fiber.
All EBC Brake pads for highway use are tested to ECE R90 brake safety regulations, and are therefore considered a legal equivalent to and replacement for any Original Parts. The exhaustive R90 procedures guarantee not only pad quality and performance on a model-by-model vehicle basis but also oversee conformity of production at our plant. This means EBC parts are as good as, or in most cases BETTER than original parts.
On brake rotors the EBC product excels once again. Made in modern series production facilities in the UK, the EBC Brake rotor is cast using "Molded out" tool patterns to produce a balanced design rotor core that prevents brake distortion and brake vibration. Precision machined and inspected, the EBC Brake rotors are tested rigorously before leaving our factory.
Many EBC sport rotors have recently been tested and awarded the much accredited TUV testing approval and the resulting German ABE number signifying the highest in quality for parts sold into Europe. If this product works at the Autobahn Speeds (which are unlimited) you can be confident that EBC Brake rotors will deliver on your car, truck or SUV in any country
Through its team of Research and Development Engineers, EBC Brakes continues to improve its product annually with the arrival of new raw materials and by rigorous testing on one of its five dynamometers - bringing you the best in vehicle brakes.
Check out the all the EBC Brakes here

DIRTY PARTS

- "For Those Who Like To Get Down On All Fours" TM