FAQs
Here are Answers to some Questions about Dirty Parts,
and about the products and services we offer:
(If you have a question not listed below, please Contact Us for an answer)
Q

-

What are Dirty Parts' business hours ?
A

-

Our store hours are Monday through Friday, 10am - 7pm (Pacific Time).

We are closed Saturday and Sunday, and major holidays. Live customer service available during store hours only. On-line ordering is available 24 hours a day, 7 days a week. We answer all e-mail inquiries, usually within 48 hours.
Q

-

Does Dirty Parts carry products for all brands of trucks and SUVs ?
A

-

Yes

.

Dirty Parts carries products for all makes and models of two wheel drive and four wheel drive trucks and SUVs. We also carry performance products for many cars, too. Contact us if you don't see what you are looking for.
Q

-

"Dirty Parts" ? Do you sell used products ?
A

-

No.

All products we sell are first quality products from major manufacturers, and all products we sell come with the full manufacturer's warranty, if one is offered.
Q

-

I'm not sure what product will work best for my application. Can Dirty Parts help me find the correct items?
A

-

Yes.

We can assist you in your product selection. We have been selling, installing, and using the products we carry for over a quarter century, and have experience with what product works best for your vehicle and driving style. Let us help.
Q

-

I couldn't find what I was looking for. Are all the products you offer on the Dirty Parts website ?
A

-

No.

We carry thousands of products from hundreds of manufacturers, and can't list them all on the site. If you don't see what you are looking for, please contact us for more information.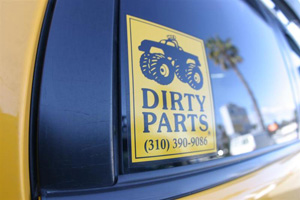 Q

-

Does Dirty Parts sell replacement and repair parts, too ?
A

-

Yes.

We are authorized distributors for every product we carry. If you need a repair / replacement part for a product you purchased at Dirty Parts, contact us. Most repair / replacement parts are special order, and may take some time, but we will do our best to expedite your order to minimize downtime.
Q

-

Does Dirty Parts offer installation ?
A

-

Yes.

We are an actual brick and mortar store, and offer installation on most products we sell. Of course, installation cost is not included in the purchase price of the products. If you are local, or plan on being in the Los Angeles area, and would like an installation quote, please contact us.
Q

-

How long after I place an order will it take to ship ?
A

-

Depends

.

If the products you order are in stock, they will usually ship within 2 business days after payment confirmation. If the products you order are not in stock, they will ship within 2 business days after we receive them, unless the order is drop-shipped directly from the manufacturer. Either way, we will notify you by e-mail of the delay, and e-mail you when your order ships. Shipping times DO NOT include this processing time. Actual time in transit depends on the shipping carrier, type of service chosen, weather conditions, and on your location. Shipping times are based on when the product is picked up from us by the carrier, and does not include the processing time to get your order ready to ship. Please note theat Dirty Parts, Inc. reserves the right to use an alternate shipping carrier if issues arise due to shipping location issues, or expedite shipping time for your order.
Q

-

Does selecting the "In-Store Pick-up" option for my Web Order eliminate all shipping / freight charges for that order ?
A

- No. Products that are not regular stocking items, or products that normally require truck freight will still incur shipping charges, even if you opt to pick them up at our store. Usually, the charges are much lower than having those same items shipped directly to you. Any additional shipping charges will be due when you come in to receive your order. If you have any questions about whether or not the products you order will have shipping charges added when you choose to pick them up at our store, call us before you place your order.
Q

-

Can I return products I purchase from Dirty Parts ?
A

-

Maybe

. Most products purchased from Dirty Parts can be returned for store credit,

subject to the following conditions

:

1)

Return is requested in writing within 30 days of receipt of product.

2)

Product is new, unused, and in its original packaging, complete with all original accessories.

3)

Customer obtains a Return Merchandise Authorization (RMA) from Dirty Parts 4) Customer ships the product, properly packed and insured, to the location specified by Dirty Parts, and is responsible for all shipping costs. 4) Returns are subject to a 20% restocking charge.

Products that are NOT RETURNABLE

: Used, damaged, or previously installed parts; Special order parts; Lights, bulbs, or electrical parts; Tire Chains or seasonal products; Tires and/or wheels that have been mounted; Promotional or discontinued products, special purchases, or products in our Garage Sale section.
Q

-

Can I cancel / return / exchange Special Order Parts ?
A

-

No.

Special order items usually have longer processing / manufacturing times, are made to order, or are items not regularly available from the manufacturer. Orders placed for Special Order items cannot be cancelled, or returned for credit /exchange. We try to be as accurate as possible with turn-around times, but we cannot control manufacturing / logistics issues related to Special Order items. If you have any questions about a Special Order item, please contact us BEFORE you place the order, so we can answer any questions you might have about the product. Additionally, Electronics (including Lights, Bulbs, Switches), made-to order items (including Laser-Etched Switch Rockers), tire chains, and installed or modified parts , or parts with missing or damaged packaging are

NOT RETURNABLE.
Q

-

Will the product I order look the same as in the picture that is shown on the site ?
A

-

Depends.

Most of the pictures used on this website are provided to us by the product manufacturers. Products are sometimes redesigned or repackaged, and the picture may be a general representation of what the product is , but not always an accurate depiction of the exact product. In some cases, there are additional items are shown to give a better idea of the function or placement of the listed product, but these items are not included with the product. And while we try to be as accurate and descriptive as possible, errors occur on occasion, too. If you have concerns about a specific product, such as how it looks, or what it includes, please

contact us

before

you place an order. Orders are based on the product's specific part number, not on the general description or pictured representation. We are available to assist you, but you are responsible for what you order.
Q

-

Does the "Free Shipping" offer on some products have conditions ?
A

-

Yes. There are exclusions.

"Free shipping" offers, and all promotional offers presented on this website, cover most residential and commercial addresses within the Continental United States. Shipments to domestic addresses not normally serviced by UPS or USPS, including some rural areas of the Continental United States, as well as Hawaii, Alaska, U.S. Territories, and International shipments are excluded from "Free Shipping" and other promotional shipping offers. Please call to see if your address qualifies for the promotional offer, or to get a shipping quote, before placing your order.
Q

-

Are there ever errors with the product prices or descriptions listed on the site ?
A

-

Sometimes.

We strive to be as accurate as possible with the information we provide,whether in person, on the phone, or on this website. Occasionally, after an order is placed, we'll find an incorrect price listed for a part, or a part that is no longer available, either due to human error, or a manufacturer's mistake. We will correct the error as soon as possible on the site, and we will notify you prior to processing your order, to give you the opportunity to revise your order.
Q

-

Do you accept International orders ?
A

-

Yes

.

International orders must be placed by phone or e-mail - they cannot be placed on our web site

. Keep in mind there are certain products we cannot ship, and some countries we cannot ship to. If you are interested in placing an order for delivery outside the Continental United States, or if you want to pay for your order by Paypal or Wire Transfer, please contact us with the specific parts you are interested in ordering, your exact shipping address and contact phone number. We will provide you with an estimate for the order, including freight charges, usually within 24-48 hours.
Q

-

Who do I contact with questions regarding a product's warranty ?
A

-

Depends

. Most products sold by Dirty Parts have a conditional or limited warranty provided by the product's manufacturer. Products sold under the "Dirty Parts" brand name have a warranty directly with us. You can

contact us

to inquire about a product's warranty, or you can contact the manufacturer directly. Warranty conditions and coverage vary by product and manufacturer.

Dirty Parts can assist you in obtaining warranty service, but Dirty Parts does not provide the warranty service - that is the responsibility of the product's manufacturer

, and subject to their conditions. Obtaining warranty service on a product usually will require the consumer to show proof of purchase for the product, demonstrate that they meet any other warranty conditions put forth by the product manufacturer. Shipping costs to return the product for warranty consideration are usually the consumer's responsibility.

Be aware that a consumer who makes the decision to modify his vehicle with aftermarket components of any kind will assume all risk and responsibility for potential damages incurred as a result of their chosen modifications. Warranty coverage does not include consumer opinions regarding ride comfort, fitment and design, or any product that has been modified by the consumer without the manufacturer's advanced written consent.

Contact us if you have a question or concern about the specific warranty on a product, or want to know what is required to obtain warranty service on a particular product
IMPORTANT NOTE REGARDING THE EFFECTS OF TARIFFS ON PRODUCT PRICING

Recent tariffs have been placed on many products and product materials causing wholesale and retail prices to change with little or no notice from suppliers. Dirty Parts, Inc. cannot control these factors, and this may cause some prices to change faster than we can update our website, affecting the accuracy of prices displayed.
DIRTY PARTS

- "For Those Who Like To Get Down On All Fours" TM