CONTACT DIRTY PARTS
Contact Dirty Parts by E-Mail, Phone, Fax,
or Visit Our Store !!!
(Yes, we are real folks at a real store !!!)
Important Note to our customers
regarding our operations
during the COVID-19 outbreak
Dirty Parts, Inc. is a California based, family-owned small business. While we have weathered many economic challenges during the past 36 years of operation, we feel this is quickly becoming an especially challenging time for small businesses across the country. As an essential business, we will remain open as long as it is deemed safe under the guidelines issued by the Center for Disease Control, and the State of California.
At this time, we are forced to operate in a more limited capacity, in regard for the health of our employees and our customers. We have temporarily reduced our store hours, and for that reason, along with restrictions on and closures by many of our suppliers and partners, there may be additional delays fulfilling orders placed at this time. We are doing everything we can to make sure our community, customers, employees, friends, and family stay safe during this unprecedented dynamic situation, and we appreciate the support of our customers in this challenging period.
We want to thank everyone for their patience and understanding, and we appreciate your continued support - thank you for your patronage, and stay healthy and safe.
E-MAIL :

Questions, comments, or concerns ?
You can send us a detailed e-mail message anytime -

We'll try to answer your questions within 2 business days.

[Please call us during business hours for a quicker response]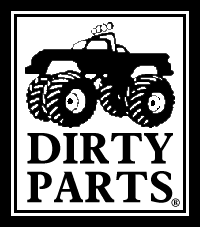 STORE ADDRESS :
Dirty Parts, Inc.
12012 West Washington Blvd
Los Angeles, CA 90066
PHONE :
310-390-9086
Monday-Friday, 10am-5pm*
[Pacific Time]
*Temporary close time - 5pm
FAX :
310-391-2252
Fax is Available 24/7
RETAIL STORE HOURS :
Monday-Friday:
10am-7pm [Pacific Time]*
*Temporary close time - 5pm
Saturday - Sunday:
Web Store only [24 Hours]
[We'll be out on the trails!]
DIRTY PARTS

- "For Those Who Like To Get Down On All Fours" TM